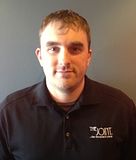 ONCE I GET AN ADJUSTMENT, WILL I ALWAYS NEED TO BE ADJUSTED?
In short, no you do not always need to be adjusted. I have patients that only come when they are really hurt and can barely walk and I have patients that come once a week or even more. There are some that would even say they are "addicted" to their chiropractor because it just feels good to be adjusted. This goes back to the last question of how long do adjustments last? Each person is so vastly different. I recommend regular chiropractic adjustments for all my patients, but I will never tell anyone that they have to keep coming. It's up to the patient if they want to follow my recommendations.
This article is made available for general, entertainment and educational purposes only. The opinions expressed herein do not necessarily reflect those of The Joint Corp (or its franchisees and affiliates). You should always seek the advice of a licensed healthcare professional.